Second Sunday, from 09/10/2017 to 05/13/2018, 10:00 AM - 11:00 AM
January 14th Game On
GAME ON DAY recap. The basketball bible competition was won by the blue team with a last second shot, spelling Presbyterian correctly!! All team members enjoyed the popcorn and toppings at the concession stand followed by the 2nd half activity, designing a family mezuza. A mezuza is a long narrow box made of wood or metal that hold a scroll with an important verse of scripture. Each Jewish family attached a mezuza to the doorpost of their house. The mezuza had a hole in the front, and the scroll inside was placed so the word "Shaddai" which means God Almighty, would show through the hole. Each time a person entered the house the scripture in the mezuza would remind him or her that God Almighty rescued his people from Egypt. Inside our mezuzas is this month's memory verse, Mark 12:29-31. Pictured is Mariah and Lylah with their mezuzas.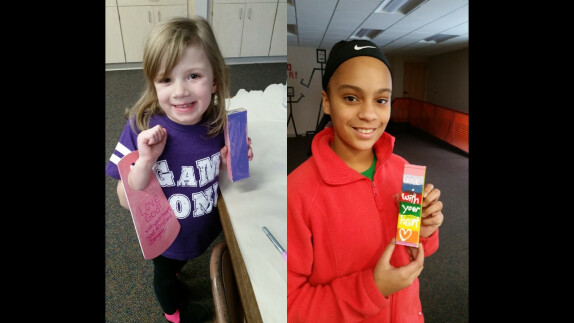 Game On Memory Verses:
September ~ Ephesians 4:4-6 There is one body and one Spirit, just as you were called to one hope when you were called; one Lord, one faith, one baptism; one God and Father of all, who is over all and through all and in all.
October ~ Romans 12:2 Do not conform to the pattern of this world, but be transformed by the renewing of your mind. Then you will be able to test and approve what God's will is - his good, pleasing and perfect will.
November ~ Hebrews 4:12 For the word of God is living and active. Sharper than any double-edged sword, it penetrates even to dividing soul and spirit, joints and marrow; it judges the thoughts and attitudes of the heart.
December ~ Acts 20:24 However, I consider my life worth nothing to me; my only aim is to finish the race and complete the task the Lord Jesus has given me - the task of testifying to the good news of God's grace.
January ~ Mark 12:29-31 The most important one, answered Jesus, "is this: 'Hear, O Israel: The Lord our God, the Lord is one. Love the Lord your God with all your heart and will all your soul and with all your mind and with all your strength. The second is this: 'Love your neighbor as yourself. There is no commandment greater than these.