Second Sunday, from 09/10/2017 to 05/13/2018, 10:00 AM - 11:00 AM
April 8th Game On
The April Game On event and memory verse is about prayer. "Pray continually" 1 Thes. 5:17 A favorite way to pray is by blowing bubbles. Relax, close your eyes, breath deep and think of something you would like to give to God in prayer – a joy, a sorrow, a confession, a struggle. Say the prayer, blow bubbles, and let the bubbles carry your prayers to God!
"Let us lift up our hearts as well as our hands to God in heaven."Lamentations 3:41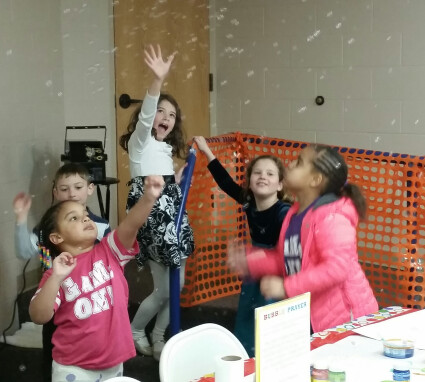 DATES to REMEMBER:
Last Wednesday Night Live – April 25th
Confirmation Sunday – April 29th
Last Monday Afternoon Club - May 7
Vacation Bible School - June 11- 15
Game On Memory Verses:
April ~ 1 Thessalonians 5:17 pray continually
March ~ Luke 19:10 For the Son of Man came to seek and to save the lost.
February ~ Micah 6:8 What does the Lord require of you? To seek justice, and love kindness, and walk humbly with your God.
January ~ Mark 12:29-31 The most important one, answered Jesus, "is this: 'Hear, O Israel: The Lord our God, the Lord is one. Love the Lord your God with all your heart and will all your soul and with all your mind and with all your strength. The second is this: 'Love your neighbor as yourself. There is no commandment greater than these.
December ~ Acts 20:24 However, I consider my life worth nothing to me; my only aim is to finish the race and complete the task the Lord Jesus has given me - the task of testifying to the good news of God's grace.
November ~ Hebrews 4:12 For the word of God is living and active. Sharper than any double-edged sword, it penetrates even to dividing soul and spirit, joints and marrow; it judges the thoughts and attitudes of the heart.
October ~ Romans 12:2 Do not conform to the pattern of this world, but be transformed by the renewing of your mind. Then you will be able to test and approve what God's will is - his good, pleasing and perfect will.
September ~ Ephesians 4:4-6 There is one body and one Spirit, just as you were called to one hope when you were called; one Lord, one faith, one baptism; one God and Father of all, who is over all and through all and in all.