Monday, July 01, 2019 - Sunday, July 14, 2019
First Presbyterian Church trip to the Holy Land
July 1-14, 2019
July 01- depart from either the DSM or MSP airport
July 02- arrive in Tel-Aviv, stay overnight in Netanya
July 03- travel north to the Galilee area and spend 5 days there
This time includes: boat ride on the Sea of Galilee, Meddido, Capernaum, Nazareth, Sepphoras, Mt. Tabor, Caesarea Philippi, and the Golan Heights
July 08- travel south to Jerusalem and spend 6 days there
This time includes: Church of the 10 Lepers, the Upper Room, Masada, Jericho, a swim in the Dead Sea, Church of the Holy Sepchleur, Bethlehem, Dome of the Rock, Holocaust Museum, Mount of Olives, Western (Wailing) Wall, and the Garden Tomb
July 14- return to the United States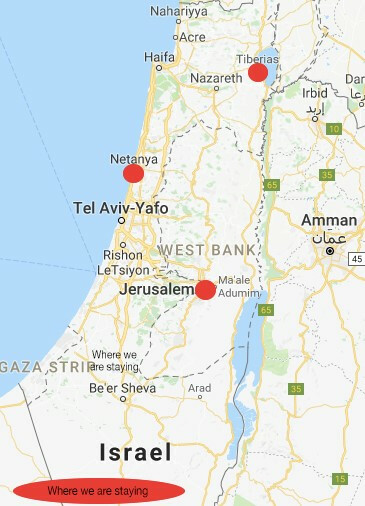 We are waiting for 2019 pricing to be released from the airlines and the hotels. We will announce the price per person when we have it.
Inclusions:
All flights, accommodations, meals, transportation for transfers and full sightseeing program, a tour guide, entrance and porterage fees.
Tips throughout the journey
Travel Insurance
We are limiting the trip to 25 people. If you are interested in traveling with us, please e-mail Traci Brown in the church office at as soon as possible. Details will be forthcoming about when payments and registration forms are due. We are excited about taking this trip with you next year!